Give a girl the right shoes, and she can conquer the World
Also wenn ich auf meine Kleiderstange schaue,
dann schaut mir viel weiß, grau, schwarz und ein wenig rosa entgegen. Einige
wenige Oberteile in poppigeren Farben. Die Farbe rot habe ich eher selten in
meinem Kleiderschrank. Dennoch entdeckte ich vor kurzem rote Ballerinas in die
ich mich auf den ersten Blick total verliebt habe,
weswegen sie unbedingt bei
mir zuhause einziehen mussten.
Nun stellte sich mir aber die Frage wie
kombiniere ich sie am besten?
Dadurch das das Wetter bei mir immer noch ein
wenig frisch ist, konnte ich schlecht ein Sommerkleid zu meinen neuen
Ballerinas kombinieren -außer ich wollte es darauf anlegen am nächsten Tag
krank im Bett zu liegen.
So entschied ich mich nach langem ausprobieren für
einen schwarzen Pullover von Karl Lagerfeld. Diesen kombinierte ich aber mit
einem weißen Hemd, da es meiner Meinung nach einfach viel eleganter aussieht.
Natürlich durfte meine neueste Errungenschaft in Form einer Poptrash-Hose nicht
fehlen, die ich euch in meinen letzten Outfitpost schon vorstellt hatte (hier).
Zu guterletzt entschied ich mich dann als kleines Accessoire für meine silberne
Daniel Wellington Classic Petite Uhr. (Übrigens bekommt ihr mit dem Code
"FELINENANIN" 15% Rabatt auf das ganze Sortiment bei DW).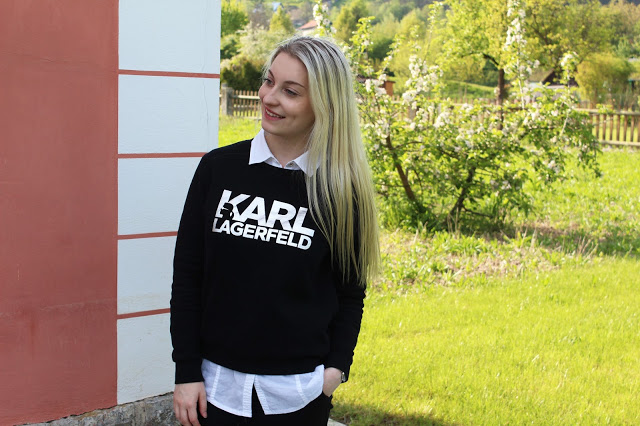 Pullover – Karl Lagerfeld / Hemd – Tommy Hilfiger/ Poptrash Hose – Only / Schuhe – Michael Kors / Uhr – Daniel Wellington
Dieses Outfit wird in nächster Zeit eins
meiner neuen Lieblingsoutfits werden. Die Ballerinas sind nicht nur
wunderschön, sondern auch noch super bequem. Obwohl ich ehrlich gesagt nicht
wusste mit was ich sie am Anfang kombinieren sollte.
Geht es euch manchmal auch so? Das ihr nicht
wisst wie ihr etwas mit was anderen kombinieren sollt?
Eure Feline